This New Homes in Myrtle Beach site is focused solely on providing a simplified means to all of the new home communities in Myrtle Beach, SC. This web site is independently managed to serve and support development of the Myrtle Beach community and is a unique Myrtle Beach new home resource as all Myrtle Beach new home communities are intended to be presented without the prejudice or reliance of community or builder advertising. Input to improving the quality of this community resource presenting new construction in Myrtle Beach will always be welcome and appreciated.

The Grove at Village Oaks

Myrtle Beach New Home Community By D. R. Horton

815 Green Garden Way, Myrtle Beach, SC, 29579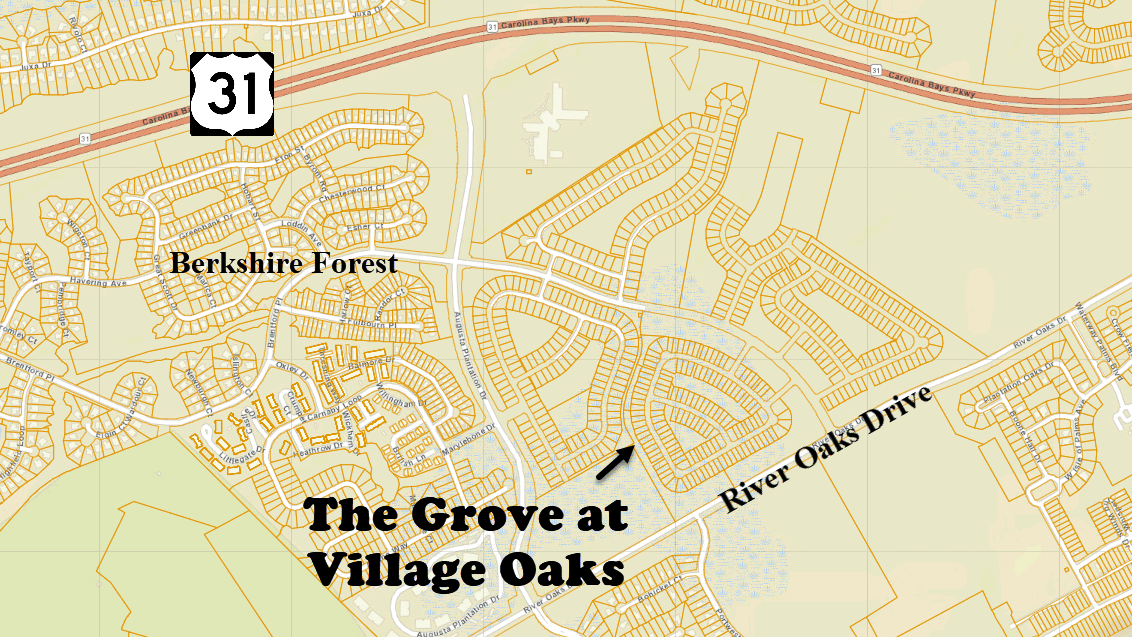 Prices (estimate only) Starting from :
Summary of this Myrtle Beach Area New Home Community:
There will be 72 single family homes for sale in the back end of the Village Oaks new home community and 141 single family homes for rent in the front side of this community closer to River Oaks Drive.

The 141 single family homes for lease will be in the new home community now named The Grove at Village Oaks. DHI Residential (dhiresidential.com) is the D.R. Horton company that is providing the rental opportunities.
Trusted by more families than any other homebuilder, D.R. Horton has been building beautiful homes in desirable locations for over 40 years. DHI Residential offers its customers homes with livable floor plans, energy-efficient and smart home technology features and a reliable property management experience in family-friendly neighborhoods.

Village Oaks is a Carolina Forest new home community. This Carolina Forest new home community is in the early stages of development and is located adjacent to the Pulte community of Berkshire Forest. Village Oaks is located directly off of River Oaks Drive. This is a brand-new D.R. Horton community located in the River Oaks area: Village Oaks. This natural gas community will consist of a variety of our most popular floor plans, incredible stand features, swimming pool, fitness center, and our Home is Connected® package, an industry leading suite of smart home products that keeps homeowners connected with the people and place they value the most. This technology allows homeowners to monitor and control their home from the couch or across the globe. New homes will be located minutes from local grocery stores, restaurants, doctors' offices, golf courses, shopping centers, schools and more!
Existing Homes for Sale in this Myrtle Beach Area New Home Community:
The Grove at Village Oaks is a relatively new Carolina Forest new home community. As a result, there are some existing homes for rent in The Grove at Village Oaks.
Existing homes for sale in this Carolina Forest new home community:
The Grove at Village Oaks Homes for RentBerkshire Forest is an excellent community resource to better define the community name of Berkshire Forest and to better explain how it is being used in integration with other ongoing Carolina Forest new housing development, including Bella Vita, Villagio at Bella Vita, Bella Vita Gardens, Villages at Berkshire Forest, Village Oaks, Merrill Villas, and The Isles at Bella Vita.


The Myrtle Beach community is rapidly growing and the new construction opportunities in Myrtle Beach are ever-changing. A significant amount of time is dedicated to ensuring that the content on this site is comprehensive and accurate. The efforts of our sponsor are greatly appreciated.