This New Homes in Myrtle Beach site is focused solely on providing a simplified means to all of the new home communities in Myrtle Beach, SC. This web site is independently managed to serve and support development of the Myrtle Beach community and is a unique Myrtle Beach new home resource as all Myrtle Beach new home communities are intended to be presented without the prejudice or reliance of community or builder advertising. Input to improving the quality of this community resource presenting new construction in Myrtle Beach will always be welcome and appreciated.

Myrtle Beach New Home Community By Warner Crossing

Log Cabin Road, Loris, SC, 29569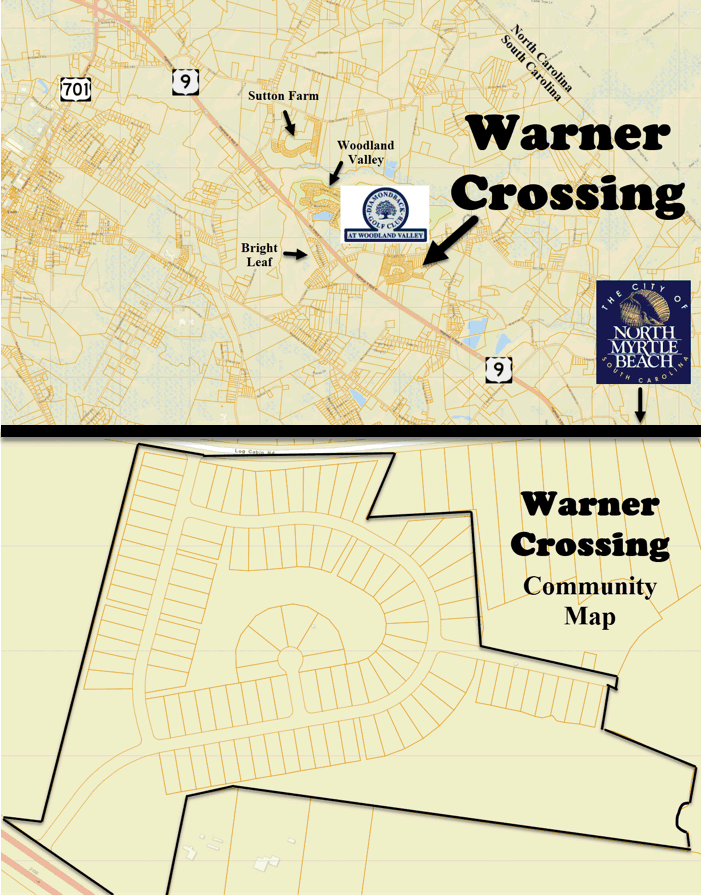 Prices (estimate only) Starting from :
Summary of this Myrtle Beach Area New Home Community:
Warner Crossing is a new home community in Loris. Warner Crossing is an 88 acre parcel of land right of Highway 9 that has 147 single family units approved for development. This parcel of land is located in Loris across Log Cabin Road from the Woodland Valley (at Diamondback Golf Course) subdivision. Warner Crossing is conveniently located right off of Hwy 9, close to Hwy 701. Within 20 minutes of N. Myrtle Beach, the ocean, shopping, and dining. As of January 2023, there were 147 single family homes to be built in this development.
Existing Homes for Sale in this Myrtle Beach Area New Home Community:
Warner Crossing is a new Myrtle Beach home community by which development has not yet started. As a result, there are currently no homes for resale in this Myrtle Beach new home community.
(843) 796-2332 Planned Future Subdivisions in the Myrtle Beach Area

The Warner Tract is one of several new future subdivisions planned for the Myrtle Beach area. See below for a more complete list of the future subdivisions planned for the Myrtle Beach area.

NOTE: The estimated planned units above are f

or information purposes only

and there is no guarantee on the accuracy of this data.

See Horry County Planning and Zoning for current data.


The Myrtle Beach community is rapidly growing and the new construction opportunities in Myrtle Beach are ever-changing. A significant amount of time is dedicated to ensuring that the content on this site is comprehensive and accurate. The efforts of our sponsor are greatly appreciated.