This New Homes in Myrtle Beach site is focused solely on providing a simplified means to all of the new home communities in Myrtle Beach, SC. This web site is independently managed to serve and support development of the Myrtle Beach community and is a unique Myrtle Beach new home resource as all Myrtle Beach new home communities are intended to be presented without the prejudice or reliance of community or builder advertising. Input to improving the quality of this community resource presenting new construction in Myrtle Beach will always be welcome and appreciated.

Myrtle Beach New Home Community By Mungo

774 St. Albens Loop, Conway, SC, 29526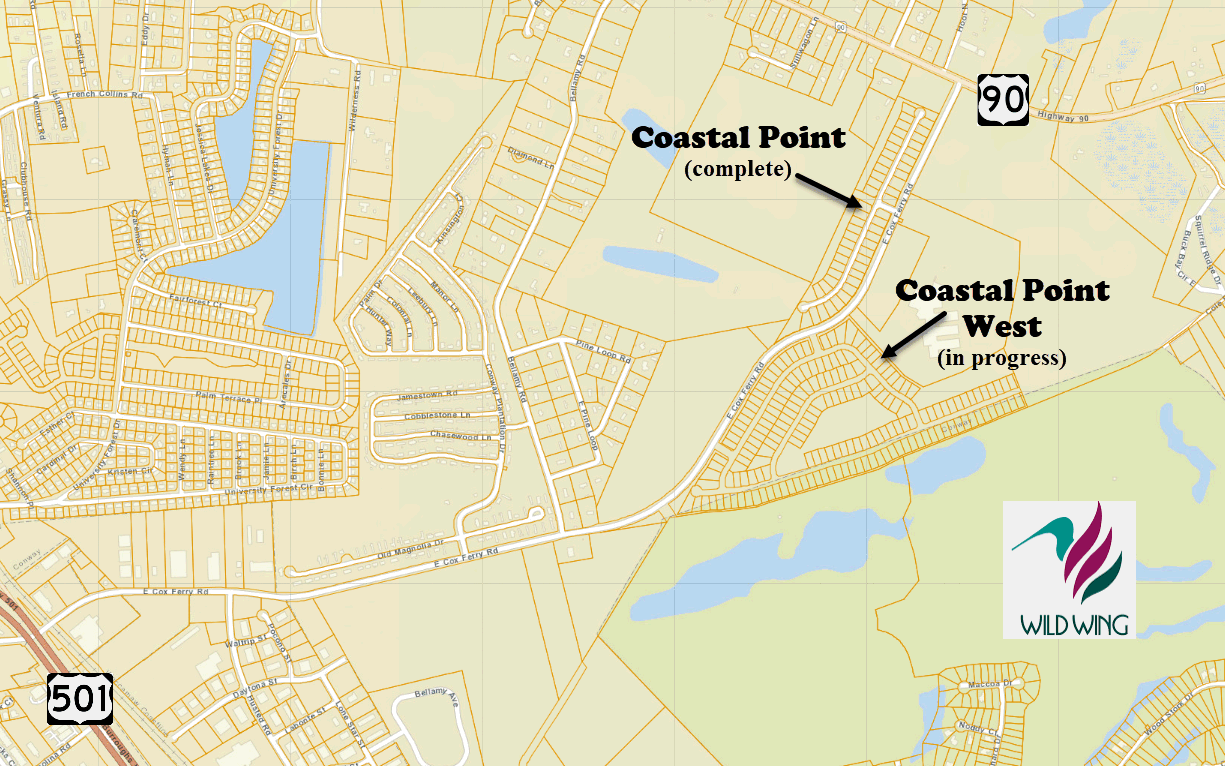 Mungo Homes
Site Plan
Coastal Point West

Prices (estimate only) Starting from : 310,000
Summary of this Myrtle Beach Area New Home Community:
Coastal Point West is a Conway new home community. Mungo Homes was the developer of Coast Point and is also the developer of Coast Point West - located on the opposite side if East Cox Ferry Road, adjacent to Wild Wing Plantation. The Mungo new home community of Coast Point West offers some of the most affordable new homes in Conway. New homes in Coastal Point West provide affordable living within minutes of all Myrtle Beach has to offer. Coastal Point West offers eight one and two story homes, ranging from 1,655 to 3,049 square feet with up to six bedrooms and 4.5 baths. Many plans include a designated home office, flex or bonus room, or extra bedroom perfect for homeschooling or when working from home! Children in Coastal Point attend the award-winning Carolina Forest Schools! Future amenities to include a pool, cabana and a park. Coastal Point West will have approximately 136 single family homes developed.
Existing Homes for Sale in this Myrtle Beach Area New Home Community:
Coastal Point West is a new Conway home community that is currently under development. As a result, there may be some homes in Coastal Point West that are for sale.
Existing homes, or spec homes, for sale in this Conway new home community:
Coastal Point West Homes for Sale
(843) 796-2332
The builder of this Myrtle Beach new home community, Mungo, is also invested in other Myrtle Beach area new home communities. Below you will find other new home communities in Myrtle Beach which this builder is developing.
Community
Starting Price
Area
Address
Subdivision Status
Mungo
Arcadia
$380,000
Forestbrook
Arcadia Parkway
Under Construction
Coastal Point West
$310,000
Conway
774 St. Albens Loop
Under Construction
Cypress Village
$375,000
Little River
100 Zostera Drive
Under Construction
Evans Park
$450,000
Murrells Inlet
Canborough Lane
Mungo Completed 2022
Homewood Estates
Conway
SC-65 & Stackhouse Dr
Future Subdivision
Lyden Village
$290,000
Myrtle Beach
Carolina Lakes Blvd
Under Construction
Merrill Villas
$320,000
Carolina Forest
Asiago Drive
Under Construction
Sessions Point
$290,000
Conway
Wagner Circle
Under Construction
Sugarloaf
$290,000
Conway
Averyville Drive
Under Construction


The Myrtle Beach community is rapidly growing and the new construction opportunities in Myrtle Beach are ever-changing. A significant amount of time is dedicated to ensuring that the content on this site is comprehensive and accurate. The efforts of our sponsor are greatly appreciated.