This New Homes in Myrtle Beach site is focused solely on providing a simplified means to all of the new home communities in Myrtle Beach, SC. This web site is independently managed to serve and support development of the Myrtle Beach community and is a unique Myrtle Beach new home resource as all Myrtle Beach new home communities are intended to be presented without the prejudice or reliance of community or builder advertising. Input to improving the quality of this community resource presenting new construction in Myrtle Beach will always be welcome and appreciated.

Myrtle Beach New Home Community By Meritage Homes

690 Cypress Preserve Circle, Longs, SC, 29568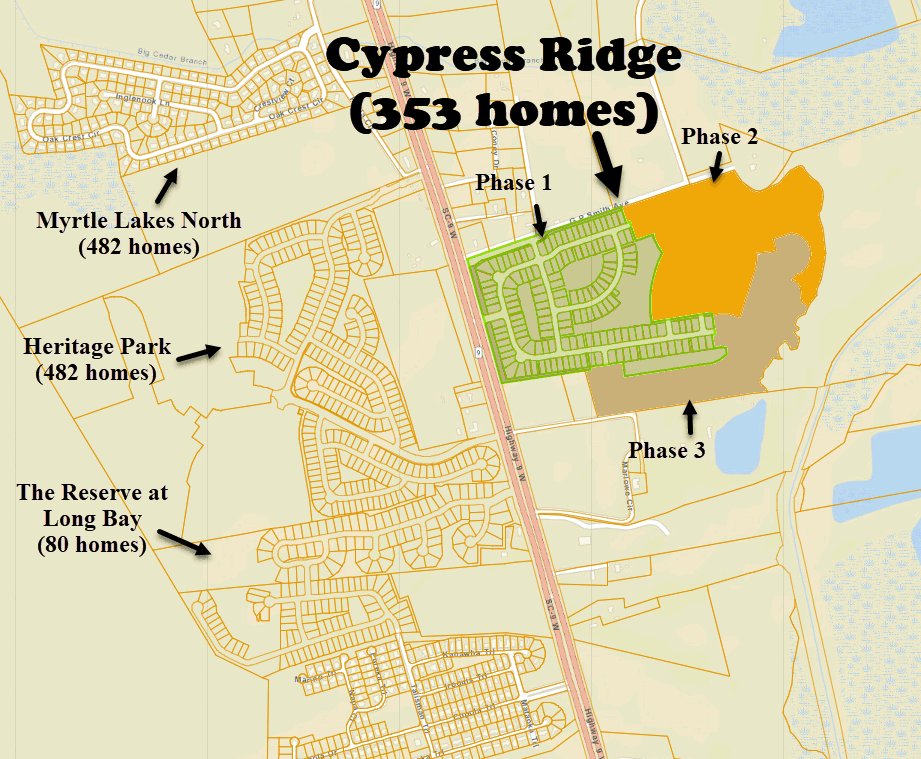 Prices (estimate only) Starting from : 277,000
Summary of this Myrtle Beach Area New Home Community:
Cypress Ridge is a new home community in Longs that just began development in the late spring of 2023. As of late May 2023, Cypress Ridge has 353 single family units approved for development in this Longs new home community. This new home community in Longs is conveniently located just off of Highway 9 across from the new Heritage Park Subdivision. Simple access to Route 9 makes this an easy commute to all of the Grand Strand activities and beaches. Meritage Homes is the builder of this new home community on Longs, SC. Tucked away in the charming town of Longs, enjoy a relaxed lifestyle away from the hustle and bustle while having easy access to miles of sandy beaches, an array of shopping and dining, golf courses and local conveniences. The Boardwalk Series offers a variety of spacious, energy-efficient one- and two-story homes. Plus. future amenities include swimming pool, cabana and a tot lot.
Existing Homes for Sale in this Myrtle Beach Area New Home Community:
Cypress Ridge is a relatively new home community in Longs that has just begin development. As a result, there may be some spec homes in Cypress Ridge Villas that are for sale.
Existing homes, or spec homes, for sale in this Longs new home community:
Cypress Ridge Homes for Sale
(843) 796-2332
The builder of this Myrtle Beach new home community, Meritage Homes, is also invested in other Myrtle Beach area new home communities. Below you will find other new home communities in Myrtle Beach which this builder is developing.
Community
Starting Price
Area
Address
Meritage Homes
Clear Pond
$300,000
Carolina Forest
4716 Hopespring Street
Creekside Point
$322,000
Little River
933 Maya Lane Dr
Cypress Ridge
$277,000
Longs
690 Cypress Preserve Circle


The Myrtle Beach community is rapidly growing and the new construction opportunities in Myrtle Beach are ever-changing. A significant amount of time is dedicated to ensuring that the content on this site is comprehensive and accurate. The efforts of our sponsor are greatly appreciated.